Flatwork Clinic, with or without Poles at Wynbury Stables, Leyburn
Flatwork Clinic, with or without poles.
Flatwork clinic for all level riders, from grassroots to advanced.
Sharon aims to make flatwork fun and interesting for riders of all levels, inspiring those she teaches with confidence and a sense of personal achievement whatever their goals.
Sharon is a highly recommended, Listed British Dressage Trainer, UKCC L2 Sports Coach, BHS Accredited Professional Coach, with over 35yrs experience.
Having trained her own horses with some of the UK's leading trainers, Anna Ross, James Burtwell, Vikki Hayton, Vicki Thompson-Winfield, Karen Shepherd and now currently training with Bobby Hayler, Sharon has terrific knowledge and experience which she passes on to her riders.
This clinic is open to all riders, regardless of current ability or goals set.
Held at the fantastic Wynbury Stables, just outside Leyburn, using the indoor school for the clinics means no worrying about the weather! There is ample parking and toilets available, also a wide selection poles for those who would like to use some during their session.
The slots available are from 10am - 3pm however should you require a different time, please ask!
Some testimonials from current clients:
"I can strongly recommend Sharon as an excellent Dressage Instructor,she is sensitive and responsive to the needs of both horse and rider setting clear and appropriate goals.What is special about Sharon is her ability to communicate the " how to" as well as the " what to" do.She gives a lot of thought to her feedback afterwards and her lessons are always enjoyable and fun!"
"I have made unbelievable progress since I started training with Sharon just three months ago. She has an amazing understanding of how both horse and human bodies and minds work and everything suddenly makes sense. I'm finally becoming the rider I want to be thanks to Sharon!"
"Sharon is without doubt the best dressage trainer I have ever had. The difference in my horse's way of going since having lessons with her is incredible. Plus she makes it so simple! She is amazing in every way - a great teacher, never stressed out, always friendly, great fun! Her lessons are truly inspiring. I would encourage everyone and anyone to make the journey to train with Sharon - it will provide a turning point in any horse and rider's learning journey."
Flatwork Clinic Prices, including arena hire:
Individual sessions, approx 50 mins, £25.00 for 2 riders sharing £17.50 EACH.
*Spaces are strictly limited so please book early.*
To book, simply click here and follow the booking process, please note that if booking for a shared session, BOTH riders need to complete payment.
When booking, you are agreeing to the T's & C's as set out here which includes cancellation policy.
Address for Wynbury Stables
High Street,
West Witton,
Leyburn
DL8 4LR
Phone number in the event of emergencies: 07789512433
Spectators are very welcome!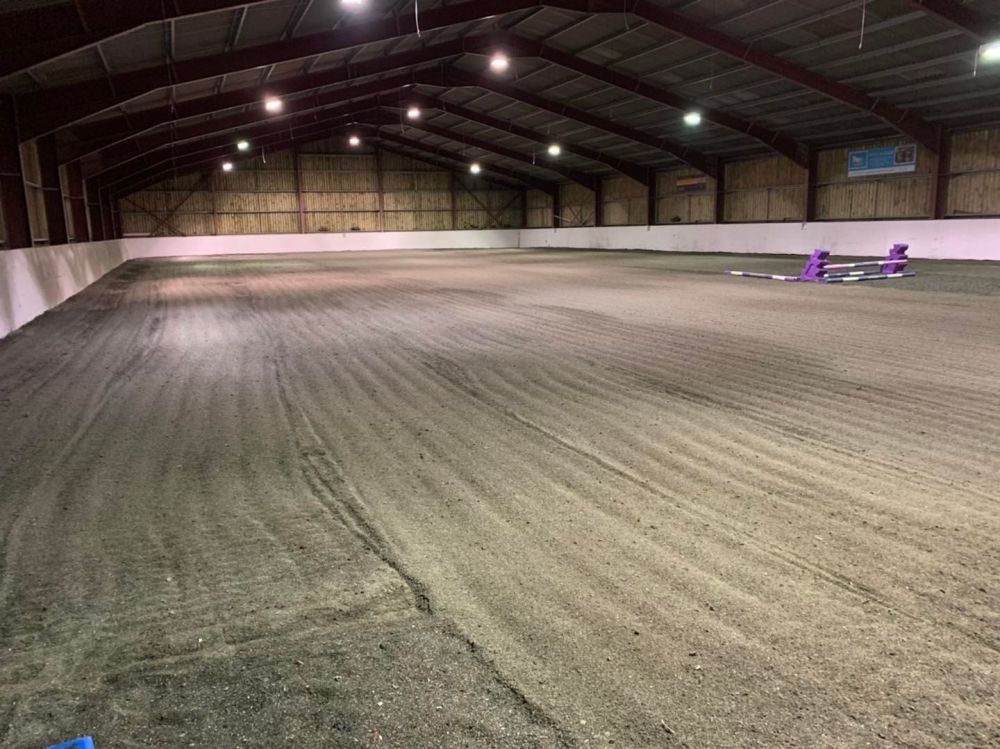 Wynbury's Indoor school.