Biography
Sharon Johnson Bio and a few of my previous horses...
I have been associated with horses since I was 6 years old, a few years ago! I was having lessons at the local riding school in Morton Gainsborough, Lincolnshire, when I moved on to have my first canter lesson. It didn't go quite according to plan! I was asking for canter on a pony I'd never ridden before (who I affectionately remember as the Ginger Ninja!) and riding school ponies being notoriously lazy, my instructor gave me a 'helping hand.' She flicked the lunge whip behind us, which gave an almighty crack, at which point me and the Ginger Ninja flew a 3'6" bank, almost flattened my granddad and my mum, and proceeded to gallop flat out through streams and mud until we arrived at the gateway to his paddock. I could see that we would need to work on this –but to take the positives, at least I stayed on!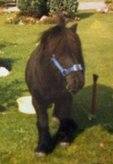 At the time I was pony mad but didn't have a pony of my own, so at every opportunity I was making a nuisance of myself to all the local riders, children and adults alike, following them on my pushbike in the hopes that they might want to let me have a go. After several complaints, my Grandfather could take it no more, and along came Skippy – a 30 year old black Shetland pony. She was too old to be ridden, but I took great pleasure in caring for her and taking her for long walks like a dog! She could be challenging – Skippy often gave me a few bruises from the odd kick and bite, and my Granddad even ended up with a broken arm once – but she was mine and I loved her.
The complaints continued – now I followed the local riders, but with a small black accomplice! Soon, Granddad realised I would not be content until I had a pony I could ride. Along came Tommy – another little black Shetland, who I proceeded to fall off every time I got on him! He bucked, bronced, dropped a shoulder, stopped dead – anything you can imagine to ditch his rider. But I always got back on! Whoever thought Shetlands were a good idea for small children got it very wrong!
Next up was Lucy – a pure bred Fell pony. Who I also managed to fall off every time I rode it! She came from a showing background, and despite warnings that she wouldn't jump – I was not to be deterred. This led to many disagreements and flying dismounts, and she even managed to ditch my instructor! However, I enjoyed hacking her out, and now found that I could keep up with the local riders on their horses – I was thrilled! The other riders were not – the complaints continued.
Keen as ever, I was always looking for more opportunities, and started helping out at the local dealers yard at the age of about 10, riding everything from 12.2 ponies to enormous hunters and competition horses. I was in my element! It was here I found CD – Countess of Durham – a sharp little 14.2 JA pony, yes one that actually jumped! Allegedly... We spent the next few years together doing various pony club games and competitions, but again the jumping was a problem.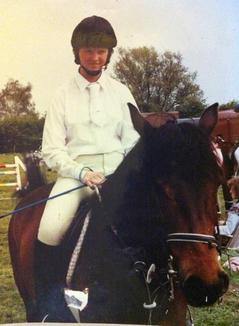 At Chase Me Charlies, she was unbeatable and cleared 4'6" – the problem came when there was more than 1 jump. Many competitions we spent being eliminated at the 1st fence, much to Granddads embarrassment, but we kept working at it. During a schooling session at home, determined as ever to crack the jumping, we were schooling over fences. We were making progress, and jumped an oxer 3 times, until she decided enough was enough. She promptly threw in a dirty stop, flew out to the left, and I exited stage right, landing directly on the top of the wing. I woke up in hospital, to be told that I had broken my back and would never walk again. My immediate reaction was – who needs to walk, as long as I can ride?!
CD was surplus to requirements as I began my road to recovery, and was soon sold. My Nana was furious and convinced I would never ride again. Granddad and I had other plans, however, and within 6 months I proved the doctors wrong. I was back on my feet, and back in the saddle. My new pony Katie came along, a 3 year old pure bred arab with looks to die for! Our relationship was short lived, however, after I tried to get on and she reared over backwards! She was swiftly returned to the dealers yard, and along came Brandy.
She was a bucker, but more sane than her predecessors, and gradually my confidence built, until before long we were back to jumping again. In 6 months we came a long way – but Brandy had caught the eye of one of the locals, and much to my dismay, Brandy was sold.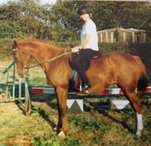 I returned to the dealers yard to get my fix of riding – and this was where I found Mirage. She was a 15.2 chestnut mare with 3 white socks – but was not your typical chestnut mare. We had a great partnership, won everything we entered at the local shows, and to this day I still have a horde of cups and ribbons that we won together. Even more importantly – at last, at the age of 16, I had a horse who could jump an actual course of fences! We made the most of it, and could jump all day long without getting sick of it.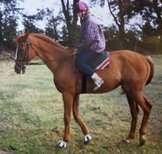 Then – along came men. I wanted to go out and have fun, and never had the money to do it, so in my wisdom, I took my horses, all my tack and anything else worth a few quid, and sold it to the local dealer. After about a year of getting into trouble, and being distracted by male friends, my Granddad decided I was less trouble when I had a horse! I saw the error of my ways, and something had to change. Next up – meet Flame, another flashy chestnut bought from a dealer. We bought a 17.2 8 year old Thoroughbred who needed some TLC...and actually turned out to be a 3 year old, fresh from the track. As he began to feel better, his attitude came out, and the next 12 weeks was a disaster zone culminating in him backing down a 50' sheer drop embankment, wrapping us both up in barbed wire.
My confidence was back at rock bottom, and my back had been injured during the fall to the extent that I couldn't ride again. I was frightened of him, and it was clear we couldn't continue. Out of the blue, one day Granddad turned up at my work, and announced that we were off to look at a horse, and that the dealers would take Flame in exchange.

The 'horse' in question, was a 4 month old hairy cob who cost £125! Mmmm well not really my 'cup of tea' as I had always had flighty thoroughbred types, with no brakes and too much attitude – as you can probably tell by now! The cob was to become the love of my horsey life and a true friend in personal tough times. That cob was "Pepsy" or None So Dear as his registered name was. Pepsy was obviously too young to back and train so I spent the first 3 years just 'playing' with him, doing things like going for walks, and introducing him to 'scary monsters' (umbrellas, plastic bags etc) – all the things that are now associated with natural horsemanship.
When Pepsy was a year old, I was feeling the need to be riding again, and along came James (named after my Granddad) – a beautiful grey Thoroughbred who had raced only 2 days ago! I was back to what I loved most about horses.

He showjumped on a ticket, and was very successful at Hunter Trials too. When James started putting in stops, it was so unlike him that we began to worry. After having him checked out, it transpired that he had Kissing Spines. He was sent to the Cambridge Veterinary Hospital for the best possible care, but his condition was so severe that they couldn't treat him traditionally – and in fact they couldn't believe that he was still able to jump. He came home and it was here that I found flatwork; they told me that he needed to be worked correctly and consistently to undo the damage to his spine from years of working in the wrong way throughout his racing career. We lunged, rode in draw reins, and did everything long and low, until a year on he could be ridden without all the equipment again. He went back to Cambridge and they were amazed by the difference in him – and so was I. As he learnt to work correctly over his back, he floated and his paces were vastly improved. He returned to full work and we cross countried and showjumped – but the flatwork was what had really enlightened me. This was the start of my love affair with dressage, although back then I never saw it as dressage and still don't; it is simply working your horse correctly to prevent injury. James and I had great fun together, but sadly we eventually lost him to a lung haemorrhage.

I came back to Pepsy, who was now old enough to start ridden work. Those early years spent together meant that he trusted me implicitly, and as a result he became the easiest horse to back, train and compete. Yes he could often be cheeky, but it was just personality and he was never nasty. I competed Pepsy at County Showing in the Cob classes, and the judges loved him! He won at One Day Events, usually finishing on a very good dressage score, he showjumped and cross countried - in fact he did everything and always gave 100%.
Unfortunately Pepsy was diagnosed with Dejenerative Joint Disease (DJD) when he was only 7 years old, so he underwent some operations to regain his soundness and returned to competition again. We micro managed his condition and he remained in good health for a long time. Sadly, when Pepsy was 15 and went out on loan, his condition wasn't managed and he worsened – eventually meaning we did the kindest thing and had him put to sleep.
At the same time as James and Pepsy arrived, so too did Pinina Gwinny – a medal winning Welsh Mountain pony, who was in foal with her first foal Pinina Gwendoline. She was bought originally for my 2 year old daughter Tara, but that didn't go quite to plan! Out of a field of 30 ponies, I had selected the medal winner – and began to show her myself, with help from her breeder as I didn't really have a clue what I was doing at the time! From humble beginnings we ended up forming our own Stud – the Jamaras Welsh Mountain pony stud. Tara's riding pony was doing quite well in her new role – and since we quite enjoyed winning and being champions, we were left needing another pony! Meet Sox. Sox was another lovely Welshie, but this one was already backed and accustomed to being ridden. Tara started her ridden showing doing lead rein classes with great success, and went on to first ridden whilst I was busy trying to juggle the other horses!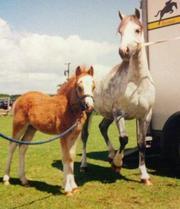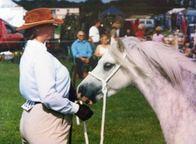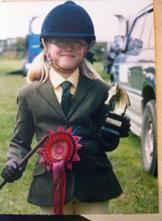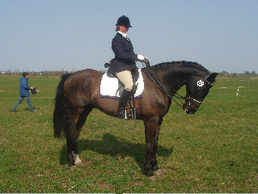 Around this time, we were also running a riding school (no really!), and short of quality horses. Shortly afterwards, King Eric arrived from Germany. He was a 17.2 Selle Francais X by Cavalier Royale, and we had imported him on the basis of his competition record and having seen pictures and videos. Contrary to what we had seen on camera, Eric arrived in a terrible state, and it was 4 months before he was even rideable. After lots of TLC, Eric began to work in the riding school, and his quality soon started to show itself. He was the ultimate Schoolmaster who anybody could ride, and everybody wanted to ride Eric. Including me. Eric was suddenly a competition horse, one who could piaffe and passage (not quite at grand prix standard, but it was there), and this is where I started affiliated dressage. Within 5 shows, we had too many points for novice, so we started competing at Elementary, we were already working medium at home so the step up wasn't horrendous.
As the circles got smaller, he struggled and we found that he had the onset of Navicular Syndrome. We were able to manage the condition with correct shoeing and work, which gave Eric a further 6 years of competing. Eric was also a superstar jumper, if you pointed him at a jump, he jumped, however he was also very strong and keen, which cross country was, well, interesting! When we went British Eventing, my head girl had to catch him after the last fence as he was already heading back to start over again! His brakes weren't quite as good as his accelerator, but he loved what he was doing, and at Bishop Burton we achieved 6th place, finishing on his dressage score of 37.5. Eric was a true superstar, and loved his competition so much that when his Navicular progressed, he refused to be retired, wouldn't be turned out, and eventually the vet advised that putting him to sleep was the only viable option.

Losing both of my beloved horses so close to one another in 2010 was heartbreaking and I had a short break. After 6 months, many of my clients were out competing, and I was missing it. I mentioned one night to my friend that I'd love to have another horse, but only on loan for the time being, and she promptly sent me several links to tempt me! In July 2011, I took on another tall dark and handsome chap called Kings Mountain, known as Monty. He was a 17h ex racer – and very much up my street. The typical lots of attitude, razor sharp flighty type, but with lots of potential. We almost had to start from scratch with his flatwork which was very basic and he was very green, but with consistent work he brought home 2 rosettes for his dressage.
In June 2012, I was schooling a clients horse, when I had an untimed dismount and unfortunately ended up very poorly in hospital, and once again, was told not to ride, the hardest decision I had to face was what would happen to Monty and Porridge ( another horse I had just taken on), Porridge went home to her mum and Monty found himself a 5* home with a lady who events, and to date Monty has done exceptionally well.
In the mean time, following a slow recovery, being true to form, I wouldn't be defeated, and purchased a welsh section D. Cledlyn Rocky, a yearling, I started his training just as I did Pepsy's all those years ago, and it seems history can repeat itself, with an accident, a young horse and recovery plus me, seems to go well together, as Rocky has blossomed into a fabulous young dressage horse!

Cledlyn Rocky on Arrival as a Yearling.
I owe such a lot to my Grandfather for never giving up on me, buying me those naughty problem ponies, and to Pepsy for showing me how easy training can be when you have the knowledge, time, patience and kindness for your horse.