A New Bedding....
Posted on
I have been an avid fan of Aubiose bedding for a long time, and when I needed bedding for Harry, the obvious choice was to go back to what I knew and loved.... However....
Juliette, our Aubiose rep had been in to my shop to discuss sales etc and we started chatting about their latest addition, Aubichick, which was developed for small animals and yes, you guessed it, chickens! However the Aubichick has found its way onto the equestrian scene and although not being marketed - yet - as equine bedding, it is rapidly selling through our shop, Kilminsters Equestrian And Pet Supplies, as just that! Having talked about this new selling point I was thrilled to be supported once again and have a bed supplied for me, well Harry actually!
So 10 days in and....
This was the newly laid Aubichick bed: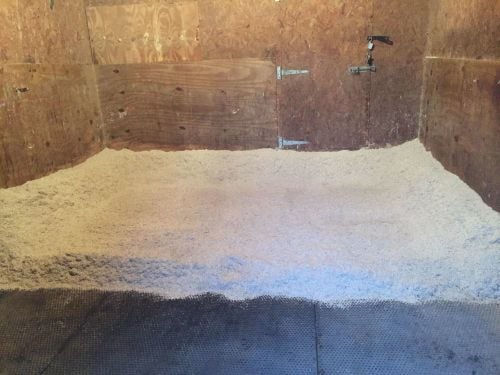 Just 8 bales made this lovely deep fluffy bed!
The first night in his new home Harry made good use of his facilities: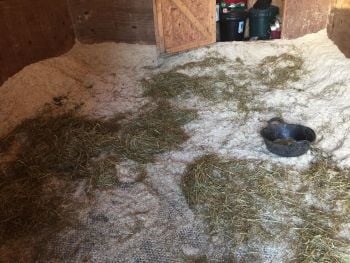 If there was anything good to say about this, I was at a loss to find it!!
I certainly had my work cut out with this, being a new bed and not yet settled I felt my heart sink at the prospect of sifting through this, however to my delight after the haylage was lifted out, the actual mucking out was easy. With the Aubichick being a fairly fine hemp it acted in two fabulous ways, firstly when you scooped up the droppings, the clean bedding simply fell through the fork leaving just the droppings to dispose of, the same as wood pellet bedding does, first gold star! Secondly, being hemp and fine, it absorbs so much more wet than standard Aubiose, and that was superb at that job too! So removing any wet has been made even easier. second gold star!
This was the actual mucking out from the above picture: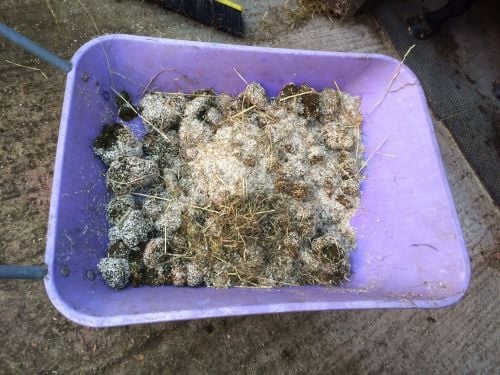 As you can clearly see, there is very little bedding wasted, and just a small amount to be taken to the muck heap.
I resisted the temptation to write a blog about Aubichick before I had given it a thorough testing, but 10 days in and I am still loving using it, Harry is a real mucky boy and fairly wet too but the Aubichick has withstood his attempt at mass destruction and kept on performing!
Some of the points I really like:
Incredibly easy to use

No need to damp it down to "activate" it like Aubiose
Exceptional value for money
Muck heaps are smaller
Amazingly absorbent
Doesn't travel or stick to horse/rugs
Approx £8.00 per bale
If you are looking for a bedding to try this winter, without a second thought I would say try Aubichick, I am certain you won't be dissapointed!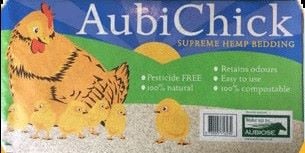 Simply because your horse deserves the best.