Terms and Conditions for Bookings and Cancellations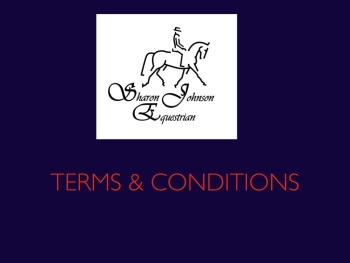 Terms and Conditions.
When booking for any training session, clinic, event or course, you are agreeing to the following T's & C's.
Cancellations/Alterations/Refunds:
Should you wish to cancel or change a booking please be aware of the following:
Cancellations made within 48hrs of the booked session will be charged at 50% of the full price.
Cancellations made within 24hrs of the booked session will be charged at FULL PRICE.
REFUNDS of ANY BOOKING if paid for by card or paypal, or other outside providers, will be refunded LESS the ADMIN FEE of the provider, PLUS the amount retained for cancellations if under 48hrs, as stipulated above. E.g. If you pay £35 for a clinic by card and cancel within 48hrs of the clinic date you would receive £17.50 MINUS the card providers fees. If you cancel 7 days ahead then you would receive £35 MINUS the card providers fees. Any questions on this, please do ask!
Cancellation of a block booking (e.g. if you book 10 and cancel the 5th one out of the 10), the cancelled lesson can either be moved to another date or sacrificed. NO REFUNDS will be given for that session unless agreed by Sharon Johnson Equestrian.
Fees will be waived should *severe weather conditions prevail, which deems it too dangerous to ride, and no other options are available, then the cancellation fee will be waived.
CLINIC BOOKING: Bookings are non transferable to other clinics, unless a clinic is cancelled by Sharon Johnson Equestrian.
*The severe conditions include, but are not limited to: SEVERE GALE FORCE WINDS (risk of damage to buildings, flying debris etc), Torrential flooding rain, Severe arena flooding, Ice/snow, "Heavy Rain" is NOT covered in the cancellation policy. Excessive HEAT, this means temperatures OVER 30 degrees, under this temperature sessions will continue if deemed safe. Please ask for confirmation if you are unsure.
Cancellations MUST be made by telephone as the email is not always available to check, please do not text. If you do not contact me, and I arrive for training, you will be liable to pay 100% of the charge. The same applies should you book a remote lesson and fail to check in.
Should I be unable to attend a booked session, you will be contacted as soon as possible, no charge will be made.
Moving of previously booked slots may incur a £5.00 charge, unless changed by Sharon Johnson Equestrian.
PAYMENT:
Freelance, Block Bookings or Remote coaching payments are required at the time of booking.
Grooms work will be invoiced at the end of the work, for regular work, that will be weekly.
Failure to pay at the time of booking (or within 24hrs) will result in your slot(s) being offered to others. Invoices which remain unpaid will incur additional charges.
Payment methods:
1) BACS Payments to Loyds Bank, Sort Code 30-90-49 Account Number 56774368 Please state your name and date of lesson
2) Online payments under the relevant booking section, see bookings page here
3) Direct Debit (ask for details)
4) Card Machine (mobile payment, signal dependant at venue if booking the next session)
***TRAVELLING COSTS:***
In an effort to cut down on mileage, currently running at 20000 miles a year, which is business mileage only(!) I have applied a cut off:
I now only travel within a 30 mile radius of DL8 4UW, ( 60 mile round trip) For individual lessons, but will travel further for clinics or block yard bookings (over 4 riders)
Sessions outside these areas will now incur a travel charge, charges will vary, so please ask prior to booking.
Other notes:
Important Note: PLEASE BE READY TO COMMENCE YOUR SESSION AT THE BOOKED TIME. Due to the nature of freelance there is a lot of organisation of travelling between clients, should you be late for whatever reason, I will still need to finish your session on the scheduled time, as running over will put other clients times out and it is unfair on them. You will still be charged the full price of your session. If you choose to use part of your sessions as a warm up, this is fine, as too is already being in the arena warmed up ready. If I have time issues due to traffic or similar, I will of course complete your booked time, if you are unable to run over and I have been late, your session will be charged at an appropriate reduced rate.
ALL NEW CLIENTS will be required to complete a rider development form. This is confidential and required for insurance purposes. Simply click

here

and you can download it.
All riders 16 years of age and under must be accompanied by a suitable adult, and an emergency contact given
Remote lessons (Zoom etc) are taken at your own risk, it is highly advisable to have a suitably able person at your session should an emergency arise. Sharon Johnson Equestrian accept no responsibility for accidents which occur while a remote lesson is undertaken.
CROSS COUNTRY RIDING; ALL riders MUST wear CURRENT standard body protectors, current standard hard hats with NON-FIXED PEAKS and shoulders MUST be covered, no vest tops! In the event you turn up to a booked session minus any of these, then sadly you will not be allowed to ride due to Health & Safety rulings.

No refunds will be given in such events.