Experience of riding "legless".....
Posted on
My Experience of "Legless" at The Balanced Rider.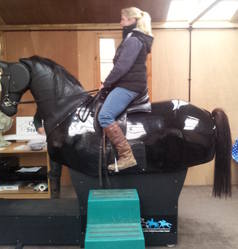 "Legless", what or who is that? Well, "Legless" is a mechanical horse who is based at Quob Stables in Hampshire, and used by a lovely lady called Clare Howard, a Physiotherapist and rider.
Clare runs The Balanced Rider, a concept which focuses on the rider's seat and biomechanics.
Why did I go? I was asked if I would be interested by a friend who was organising a small group, even though I am not currently fully back to riding regularly, I intend to soon, so this would be a great way to find out if my injuries I suffered in June 2012 had left long term balance issues. Plus it was also going to benefit my own riders through an even deeper understanding of the seat and its effects.
The course began at 10am with a look at a skeleton and to see how we don't need much more than balance to sit correctly on a horse, it is mainly due to our muscle development which encourages an ineffective position.
We then moved onto gym balls with the focus being on our core, something which was definitely not easy for any of us! We used a hard stool to find our seat bones, and yes, a hard surface definitely makes you aware of them!
The word "core", was explained in great depth, and even though we are all aware of the words "core strength", we may not know what it actually is. The core strength comes from small connecting tissues found throughout the body, rather than the "6 pack" we often assume is our core. Surprisingly our "core strength" is found in small connective muscles, rather than the larger ones.
Following the workout on the gym balls and located our seat bones, we were introduced to "Legless", a rather dashing mechanical black horse!
Legless is designed to do all the dressage movements such as passage, piaffe, changes etc, and has ability to lengthen and shorten the pace too! As well as having all this to offer, legless is fitted with pressure pads under the saddle and leg areas which monitor your position.
We took it in turns to "ride" legless, and have our results analysed by the computer: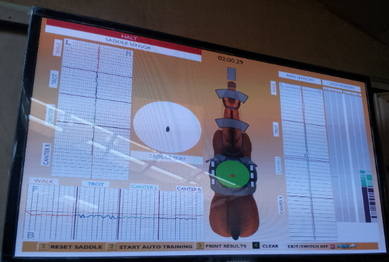 Here is a short clip of me on my first ride.
https://www.youtube.com/watch?v=4sjiXqjF5mw
As this is the first time in the saddle for 4 months, and properly since my accident, I was intrigued by what legless would tell me. And as you can see from the clip, I have certainly changed, unfortunately not for the better, my back, hips and "core" had gone to pot and my body seemed unable to absorb the movement as it would normally, through my lower back and hips, instead, it was a solid mass!
We did some stretching exercises off legless and worked for a while to get me moving out the saddle, then remounted and did a few more on legless, see these clips:
https://www.youtube.com/watch?v=Q2uV8p4JZa8
https://www.youtube.com/watch?v=Nt9kEAHBpf8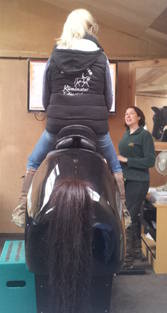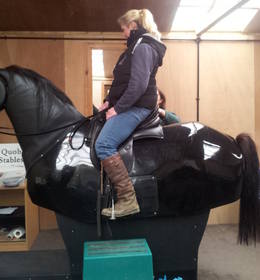 The results were good, I ached as I knew I would, but once back in the saddle for the final go, I actually felt much more free, and I think you can see this in the final clip here.
https://www.youtube.com/watch?v=wA1wmofp5dA
I know there is a long way to go with my body and getting it back to my rider fitness and balance but I am very pleased to have felt a saddle again!
Would I recommend this course? YES! What's more, I am going back for more as I will need to be at my best when it becomes time to back rocky, I don't want him starting out with a crooked rider!
What did all this cost? £20.00 per person (minimum of 4 people), what I feel was an absolute bargain.
Here is a link to Clare and her website: http://www.thebalancedrider.co.uk/