Latest News
Sponsorship winner announcement
(November 23, 2011)
---
Kilminster Equestrian is pleased to announce that after 2 months of searching, we have found our sponsored rider for 2012! We received 138 applications in total, and each was very worthy of consideration, particularly the final 10 who made it through to the second round. The response was incredible, with applicants from lead rein showing to Eventing and everywhere in between.
This was not an easy decision to make, and I called upon a very good friend to cast the deciding vote in view of the fact that applications had come from both clients and non clients to keep the competition impartial.
After much deliberation, the winner who will be flying the flag for Team Kilminster is Nicola Strong!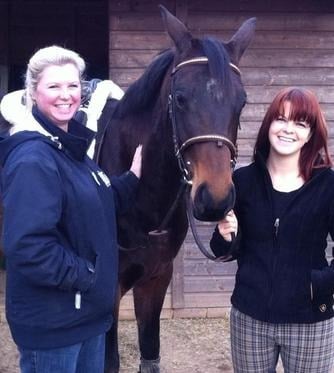 Nicola, 27, from Andover, is a Communications Officer for Macmillan Cancer Support. She has been riding for about 23 years and in the last few years has started competing regularly in unaffiliated showjumping, Hunter Trials and more recently dressage.
Kilminster Equestrian was looking for a rider who wanted to go further in their chosen discipline, and since Nicola is looking to make the step up to British Eventing and British Showjumping with her 16.2 Sport horse Caherpuca Star (Willo), she fitted the bill well on that front. Both Nicola and Willo have more experience jumping, so we will be working hard on their dressage to help get them ready for the Eventing season. Nicola will also be looking to start low level competition with her 4 year old mare Ruby, so it promises to be a busy year for the Team Kilminster colours!
Nicola says; 'I feel very lucky to have been selected, and am hugely grateful for the opportunity. I have only known Sharon since July this year, and already seen a massive improvement in my riding and our results because of her coaching, so I'm really excited about what we can achieve together in 2012. Hopefully I can repay her faith in me with some rosettes for Team Kilminster!'
Kilminster Equestrian is pleased to have Nicola on board, and you can find out all the latest news on their training and competition results here. We will also be keeping you up to date on the successes of the other Team Kilminster riders, so keep your eyes peeled for updates, and don't forget you can follow us on Facebook and Twitter.