So when you have time to think..... this happens.....
Posted on
While I was on holiday I had some thinking time, those who know me know this can be a bad thing!
So, what did I think about? Well, I'm a nutshell, I reviewed my career and where it was, where it is currently and where I want it to be, which to cut a long story short meant I realised how much I missed riding, schooling and competing. Don't get me wrong, I've had a ball riding other people's horses and am very grateful to the owners, but since I lost my beloved rocky in June, I've been in no mans land and totally lost. So, during our holiday my ever patient husband endured a week of my ramblings about the afore mentioned, and the decision was made that we should look for our next Equine friend.....
I had no preconceived ideas of what I wanted, so the challenge was made somewhat harder to find that friend!
I basically spent 90% of our holiday perusing the internet, when I actually found signal (!) and seeing where my heart would take me, finally settling on something I've had before.... an ex racer. So contact was made to every rehoming place I could find to see what was looking for a new home, and the procedure I would have to follow to get one, which seemed to vary from easy to quite hard, but I know I can give a horse the 5* home they deserve so wasn't put off by this.
A few weeks after the search began, I have to admit I was feeling defeated, with some pages advertising a new arrival and then being homed that very day, I had a change of mind, perhaps a rehoming centre wasn't the place to look, until purely by chance someone had tagged a Scottish rehoming centre on one of the other pages, which lead me to immediately go check it out!
Not expecting anything at all, I looked through the page, saw a few lovely looking ex racers and for reasons only known to me, I messaged the page with my information and a plea for help to find my next best friend. I didn't expect a response, but after a few moments I found myself chatting away to the person behind the page, Kevin, as I now know, who informed me of a potential that was arriving the following day, Sunday, and he would have more details once the horse had arrived and been assessed, so having heard a similar story what felt like a hundred times, I said ok, let me know, with a sinking feeling of "here we go again" and continued my perusing....
Monday the horse was up on the page, and contact was made again, I watched some videos and saw pictures, there was something very attractive about this one, I couldn't tell you what, just "something", anyway my brain said don't be stupid, he's in Scotland, you are in Hampshire, you can't go and try him, so leave it alone.....
Meet Harry!!!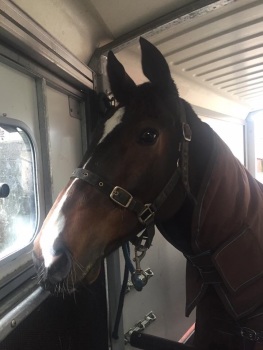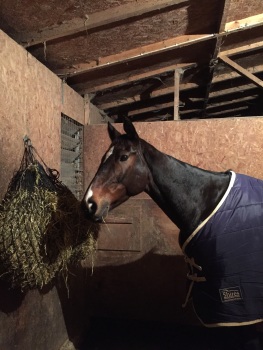 Yes, I know, what have I done?! I've bought a racehorse who had his last race a couple of weeks ago, totally unseen and a proper gamble, but hey, nothing ventured nothing gained yes?
He's called Mercer's Row, which is something to do with tailoring, but we thought he looked like a Harry. A 10yr old bay gelding who has spent his life racing on the flat, so I have some work to do to sort out the muscles and put them where they should be!
I can't thank Kevin enough for his help, his organising the transport and putting up with a barrage of questions about harry and his history, think he should have a medal!
Harry will never replace rocky, but hope he fills a very empty void that he left behind.
Can't wait to start writing some blogs about his progress. X